Looking back at the Tokyo Logistics Fair, Japan, September 2018
作者:本站编辑 发布时间: 2018-09-15 来源: 本站 Number of View: 159 Author: Stand editor Published: 2018-09-15 Source: website
4 月份美国拉斯维加斯展会,时隔 4 月 " 申牌 " 再次亮相亚洲舞台 —— 东京物流展。 From the April Las Vegas show in the United States, the " Applying for a Brand " debuted in the Asian stage , Tokyo Logistics Fair , in April .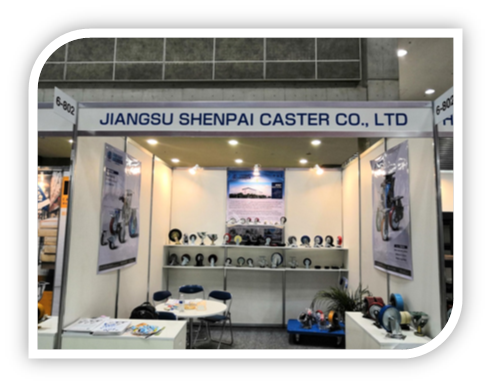 Exhibition effect
2 万多的人流量,虽然这是 " 申牌 " 首次以展商身份亮相,但是申牌产品早已通过贸易公司,配套出口等方式出现在日本市场了。 The average daily traffic of this exhibition is more than 20,000 people. Although this is the first time that " Applying for a Brand " appears as an exhibitor, the products for applying for a Brand have already appeared in the Japanese market through trading companies and supporting exports. Coincidentally, there is also a South Korean customer who applied for a license to participate in this exhibition, which also reflects the influence of this exhibition in the Asian region.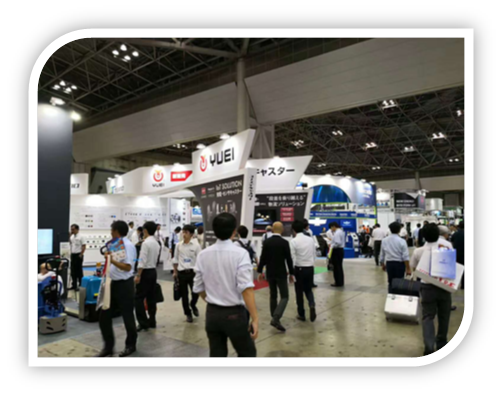 Brand road
In this country that pays great attention to product design details and use effects, customers also strive for perfection of the quality of casters. " 申牌 " 的客户,在看过展品和翻过样本后,问到: " 你们真是中国的公司吗? " 是的,中国一样有值得信任的五金品牌。 Many customers who contacted for the first time , after reading the exhibits and flipping through the samples, asked: " Are you really a Chinese company? " Yes, China also has trustworthy hardware brands. Made in China 已经进入了国际市场的大舞台。 Although still relatively young in the global caster industry for two or three decades, Made in China has now entered the international arena.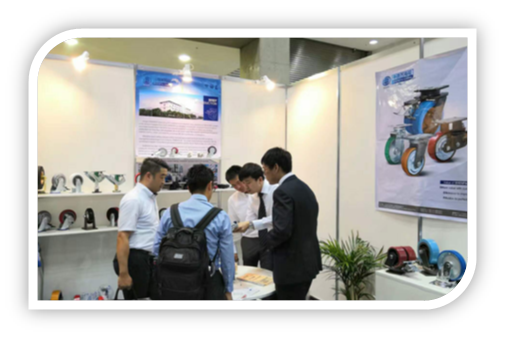 3. Industry communication
" 锤牌 "" 优越 " 等同行公司的交流中,我们同时对中国国内市场的低价竞争表示遗憾,对追求更精益求精的品质和创新,铸就品牌企业的长远发展观表示认同。 In the exchanges with Japanese first-line brands " Hammer " and " Superior " , we also expressed regret at the low-price competition in the Chinese domestic market, agreed with the pursuit of better quality and innovation, and agreed with the brand's long-term development concept. .
In the harmonious conversation, they also explored and demonstrated the different technical characteristics of their products. 申牌 " 虽在品质和耐用程度上紧追国际步伐,但日本产品的表面处理和细节设计非常值得我们借鉴。 Although " Shenpai " keeps up with the international pace in terms of quality and durability, the surface treatment and detailed design of Japanese products are worthy of our reference. At the same time, they expressed continued concern about the development of Chinese brands.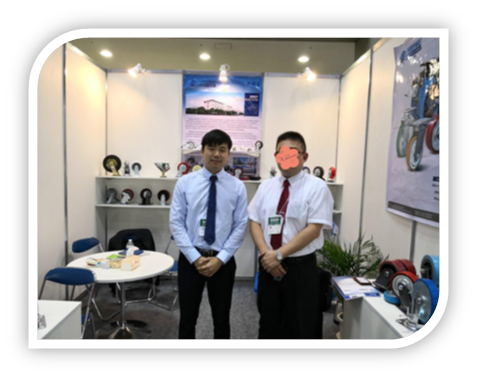 Conclusion:
The Tokyo exhibition has gained a lot from in-depth exchanges with new and old customers and peers. " 工匠精神 " ,在经济高速发展的当下,值得我们思考和学习。 And the dedication of Japanese companies, the rigorous attitude to quality and the self-correcting " artisan spirit " are worthy of our thinking and learning in the context of rapid economic development.
" 从未停止过脚步! " Applying for a license " has never stopped!